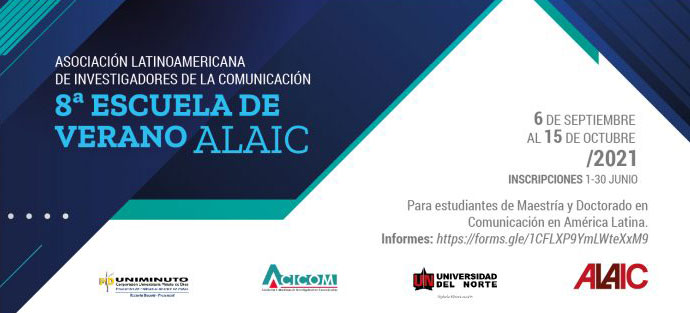 Summer Schools
VIII Summer School ALAIC 2021
The VIII Summer School 2021 will be carried out as a collegiate work between ALAIC, ACICOM, Universidad del Norte and the Minuto de Dios University cooperation.
"In this opportunity there are no restricted topics for the postulation of research papers, nor for the realization of the school panels. Since one of the purposes is to map the topics that are being prioritized from the perspective of new researchers, once the applications are received, five emerging thematic lines will be defined to organize the academic spaces in this edition of the Summer School".
VIII Summer School
Circulars
VIII Summer School
List of selected people
VIII Summer School
Please note the following dates
From June 1st to 30th
Summer School Application
A public call will be open for the application of those who are interested in participating in this version of the School. They must demonstrate, in Portuguese or Spanish, that they are finalizing their design or starting the data collection phase of their investigations. Applications with work in the design stage will not be received.
From June 26 to Aug 10
Evaluation process
The evaluation process will be carried out and a maximum of 60 participants will be selected, guaranteeing gender equity, encouragement of the diversity of countries of origin, level of training (master's and doctorate) and thematic diversity.
From Sep 6 to Oct 15
Activities in relation to the thematic lines
During each week, except between October 4 and 10, activities will be developed in relation to each of the five (5) thematic lines identified during the call. Weekly activities will include a synchronous meeting day (Monday) and asynchronous activities during the rest of the week.
From Oct 5 to Jan 15, 2022
Preparing an article
All participants prepare an article based on their thesis work, for which they will have the mentoring and support of researchers from the region who are experts in their subjects.