conferences
XV ALAIC Congress 2020
The Latin American Association of Communication Researchers invites researchers in the field of Communication to participate in the XV ALAIC 2020 VIRTUAL Congress.
Program
General program of the ALAIC Congress 2020
ALAIC Congress 2020
announcements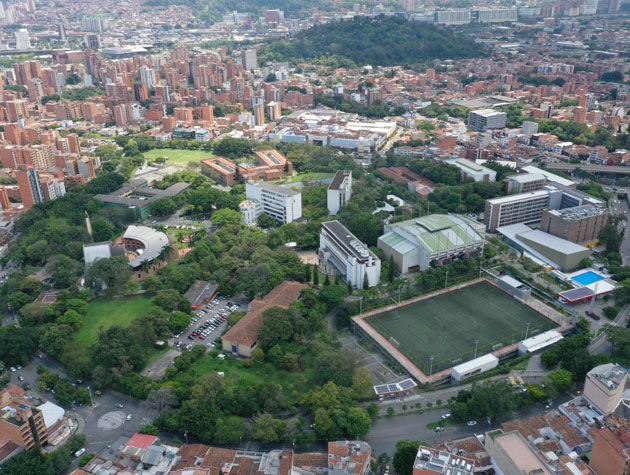 Congreso ALAIC 2020
Circulares
Documentos
Plantilla para presentar los resúmenes de las ponencias
Documentos
Plantilla para presentar ponencias completas
ALAIC Congress 2020
Thematic groups and Interest Groups
Interest Groups (IG) are defined for each Congress and constitute scenarios for reflection and confrontation of perspectives on emerging issues of importance for the host country or the region.
GI 3. Communication-Decoloniality
Latin American communicational thought is configured as a paradoxical territory: in the midst of hegemonic foreign discourses, it has known how to exercise epistemic-political shifts, having as its limit the modern Western narrative. Since the end of the 1990s, the decolonial approach has challenged the persistence of this story, making new cognitive schemes available to critical social studies from which to reconsider the historical experience of the region. In the midst of the conservative advance that our region is experiencing, it places us in an epochal scenario of openings, uncertainties, rethinking and transitions that involves the communication field in the task of re-thinking. In this sense, decoloniality is presented as a political-epistemic option to broaden the analytical spectrum of Communication and power, encompassing the plurality and complexity that these times impose on us as researchers and citizens. Consequently, the IG hopes to work around this problem with:
Papers that present advances or results of research work.
Reflection essays and/or theoretical proposition; Descriptive-value-narrative systematization of concrete experiences;
Various communication products (stories, documentaries, testimonials or photographic, cinematographic, radio, television, digital or transmedia projects).
Coordinators
Dr. Erick Rolando Torrico Villanueva Simón Bolívar Andean University (Bolivia) [email protected]
Dr. Eloína Castro Lara Meritorious Autonomous University of Puebla (Mexico) National University of La Plata (Argentina) [email protected]
Dranda. Valeria Belmonte
National University of Comahue (Argentina)
National University of La Plata (Argentina)
[email protected]
GI 4. Information and communication technologies and public management (electronic government)
Researchers from various disciplines are invited to discuss the possibilities of ICT for the articulation of electronic government as a tool for access to power through Citizen Participation based on Social Reappropriation. The proposal is developed in the context of uncertain scenarios:
A third sector (social organizations) little developed;
A political class influenced by the instrumental paradigm of technology;
State structures still very bureaucratic and far from the complex vision;
Social sectors with low levels of organization;
A market that has penetrated public policy in ICT matters to flood it with its consumerist model.
Some of the problems to be discussed in the group are: democracy through electronic government, transparency in electronic government, social appropriation of ICT in the field of public management, citizen participation mechanisms through electronic government in Latin America, culture of innovation vs. Bureaucracy, open access to public information and social control.
Coordinators:
Angel Emiro Paez Moreno
University of Zulia, Venezuela [email protected]
Maria Isabel Neuman University of Zulia [email protected]
ALAIC Congress 2020
workshops
For this version of the Congress, the workshops will be held simultaneously with the WGs and IGs and will be spread throughout the week. Some of them will have one work session during the week and others will have two sessions that will require two days of work.
T1. Communication and Ethnic-Racial Diversity in Latin America
This will be a collective space for discussion and systematization of experiences, notes and proposals related to guaranteeing ethnic-racial diversity in the media. Thus, the activity will be developed from guiding questions, which will be debated by the participants, such as:
What is the role of the media in reinforcing racism and ethnic-racial inequalities?
How do communication policies in Latin America (national laws) incorporate the ethnic-racial issue?
What are the main points contemplated on the subject in these laws?
What are the fundamental axes in the relationship between ethnicity / race and the media?
From this, a collective analysis will be made of how communication policies in Latin America work to guarantee ethnic-racial diversity, based on axes such as representation, production, property and social control.
Date: Tuesday, November 10. 2:00 p.m. to 4:00 p.m. (Colombian time)
Coordinator: Prof. Dr. Paulo Victor Melo. Federal University of Sergipe/Brazil. E-mail:
[email protected]
Workshop 2. Mining of Textual Data in Ibero-American Cybermedia.
The workshop will provide insight into textual data mining strategies for Ibero-American press cybermedia. It begins with an introduction to web data mining, the possibilities of exploring log data with social media tools such as Karma Fan Page or Similar, and then focuses on the construction and quantitative analysis of considerable volumes of news that more than 400 Ibero-American media pour into the social network Twitter. Follow-ups of news cases may be scheduled in Chilean, Spanish-Argentinean, Peruvian, Ecuadorian, Colombian, Mexican and American (Spanish-speaking) media, among others. It may be of interest both for analysis of national cases or for comparisons between countries. textual data mining
The proposal for this workshop is based on our own tools developed for these purposes. Kibana-la_Sophia has the capacity to capture more than 600,000 news items per month since May 2019. It is an application scaled from a development of the "Social networks and media: analysis model based on data mining for understanding of the Chilean informative ecosystem on the internet and citizen educommunication on the net".
Date: Wednesday, November 11. 2:00 p.m. to 4:00 p.m. (Colombian time)
Coordination: Dr. Luis Cárcamo-Ulloa. Institute of Social Communication Universidad Austral de Chile [email protected] Daniel Barredo IbañezSchool of Human Sciences, Universidad del Rosario (Colombia) [email protected]
Workshop 3. Office: Design Thinking and Canvas applied to communication projects.
The office aims to make participants aware of the importance of Design Thinking in the construction of projects in the area of ​​communication, in addition to proposing the application of a business model tool, the Canvas. It will use exposition and discussion of basic concepts as a methodology, followed by the presentation of models to proceed in the elaboration of the expected product, carried out from the application exercise of the instruments provided for the group activity that will be subdivided into teams among the participants.
Date: Tuesday, November 10 (session 1) and Thursday, November 12 (session 2). 2:00 p.m. to 4:00 p.m. (Colombian time)
Coordination: Dr. Mirna Tonus. Jornalismo/PPGCE/FACED/UFU (Brazil). [email protected]
Dr. Adriana Omena. Jornalismo/PPGCE/FACED/UFU (Brazil). [email protected]
Eng. Marlon Wender Pinheiro Costa. Jornalismo/PPGCE/FACED/UFU (Brazil).
[email protected]
Dr. Raquel Timponi Pereira Rodrigues. Jornalismo/PPGCE/FACED/UFU (Brazil).
[email protected]
Congreso ALAIC 2020
Encuentro Junior
Circular Especial
Convocatoria a presentación de resúmenes de ponencias para el Encuentro Junior
PLANTILLA
Plantilla para presentar resúmenes de ponencias para el I Encuentro Junior
Congreso ALAIC 2020
Memoria Fotográfica