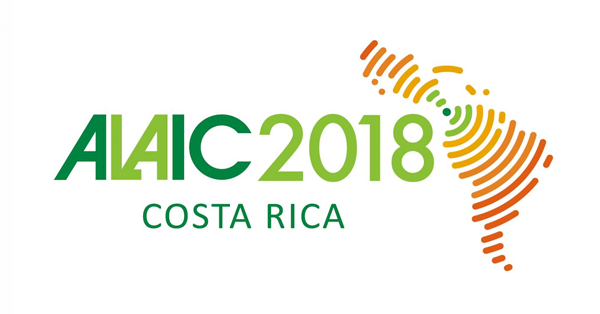 conferences
XIV ALAIC Congress 2018
We are pleased to invite you to participate in the XIV ALAIC congress that will take place at the University of Costa Rica on July 30, 31 and August 1, 2018 at the Faculty of Social Sciences and whose theme will be:
Program
General Program of the ALAIC Congress 2018
ALAIC Congress 2018
Thematic Group Programs
ALAIC Congress 2018
Interest Group Programs
ALAIC Congress 2018
Editorial novelties: from the Author to the Reader
The list of books accepted to participate in Editorial Novelties is now available.
Congreso ALAIC 2018
Circulares
Congreso ALAIC 2018
Documentos
Documentos
Encuentra la plantilla para enviar ponencias al XIV Congreso ALAIC
DOCUMENTOS
Aceptación de grupos de interés y talleres
ALAIC Congress 2018
Información Extendida de Grupos de Interés y Talleres
The Interest Groups are activities of reflection and confrontation of perspectives on emerging or relevant topics for the country or region hosting each ALAIC congress. These groups are defined for each Congress and are proposed by the participants.
Workshops are an academic dynamic created for production and active learning, allowing experimentation, collective production and/or the exchange of experiences around a given issue. They will be developed in parallel to the Thematic Groups and Interest Groups. The Workshops will be open to researchers, teachers and undergraduate students.
ALAIC Congress 2018
Official website of the ALAIC Congress
ALAIC Congress 2018
ALAIC Congress 2018 Inauguration Costa Rica
ALAIC Congress 2018
Panels and Master Conferences
Panel 1: 40 Years of ALAIC: The Future of the Countryside in Latin America
Panel 3: Communication and Democracy
Panel 6: The new discourses of capitalism and the urgency of a return to fundamental rights
Distance conference: "Communication and democracy. The current challenges of digitalization".
ALAIC Congress 2018
Photographic memory