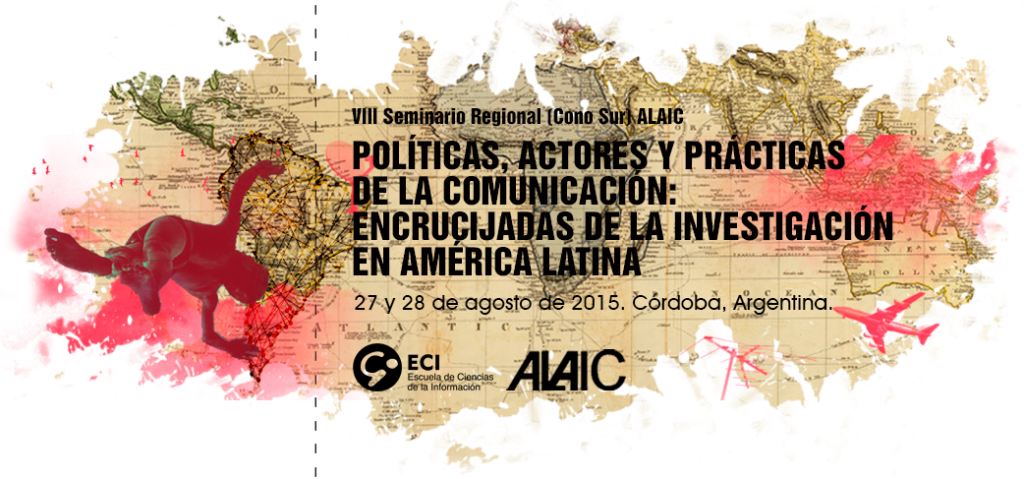 Seminars
VII Regional Seminar ALAIC Southern Cone
Communication policies, actors and practices: crossroads of research in Latin America.
The theme of this publication reflects the dynamism of the field of communication today. Communication studies in Latin America are at complex crossroads posed by globalization: the resolution of structural inequalities and latent demands due to growing technological gaps, the emergence and constant transformation of citizen participation through network movements, the renewed forms of dispute for the imposition of meaning, the reconstruction of discourses and realities in virtual environments, disputes over the legitimacy of controls on media conglomerates and struggles for freedom of expression, among others.
ALAIC Regional Seminar 2015
Thematic groups:
ALAIC Regional Seminar 2015
Conclusions
The lectures addressed various topics, presenting research results, professional experiences and field work. Academics, graduates and thesis students from Argentina, Bolivia, Brazil, Colombia, Ecuador, Mexico, Peru and Uruguay shared their analyses and studies in order to contribute to the debate for an increasingly democratic and inclusive international communication.
Specific proposals from Latin American researchers were reflected on the 12 general thematic axes, while at the same time reflecting a broad spectrum of transversality and multidisciplinarity. In this sense, the theoretical and methodological contributions raised the contemporary scenarios of new configurations of public space, actors and practices in the field of journalism and communication.
Within this framework, the issue of new technologies not only covered the corresponding axis, but also clearly crossed the current studies, from media reception and appropriation, communication for organizations to the modalities of citizen participation and new social movements.
It is from this conceptual richness, from the epistemological ruptures and from the paradigmatic debates that the presentations of this Seminar have produced that we are encouraged to propose the need to rethink and enrich the frameworks for the organization and participation of future congresses. Given the growing transversality of our field, from the new School of Communication Sciences that succeeds the School of Information Sciences of the National University of Córdoba, it is increasingly necessary to strengthen the inter-, multi- and trans-disciplinary discussion to address the crossroads characteristic of the XXI century: the centrality of communication processes in the complexity of the public space.